Reverend Roosevelt Ewell is a native of Tarboro, North Carolina. He is the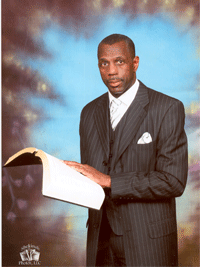 seventh child born to Annie B. Ewell and the late Clarence Thomas Ewell, Sr. He attained his education from North Edgecombe High School and Elizabeth City State University. He has received a THB in Theology and holds a Master Degree of Divinity in Theology from Vision International University in Ramona, California.
Reverend Ewell was licensed to preach the gospel in January 1988, and was ordained in June 1991. He served as an associate minister at the New Hope Baptist Church, Danbury, CT under the great leadership of the late Rev. Dr. Aaron B. Samuels, Sr. Under his leadership he was very active as chairman of the Evangelism Ministry and Prison Ministry. He served three years as Interim Pastor at Christ Temple Church in Danbury.
Rev. Ewell has received numerous honors and recognitions. In 1993 he received a teacher's award from the Bethel Bible Institute, for outstanding contribution and success to the school. In 1994 he was a nominee for the Danbury Jaycee Outstanding Citizen Award. In 1996 he received the Volunteer of the Year Award from the Federal Correctional Institution in Danbury, CT. In 1997 he received a Certificate of Recognition from the Honorable Governor, Paul E. Patton from the state of Kentucky.

In September of 1998, God moved on the hearts of the people of Canaan to call Rev. Ewell as the third pastor of Canaan Institutional Baptist Church in South Norwalk, CT. Under his leadership and through the power of the Holy Spirit, Canaan has undergone a spiritual awakening. God moved the people of faith to purchase their first van. In 2000, with Jesus guidance, the members marched into the church through their newly renovated Handicap Accessible entrance. Being directed by the Holy Spirit, Rev. Ewell has focused on three objectives for the family of Canaan: Family Values, Spiritual Growth and Evangelism.

Rev. Ewell has become an active icon in the City of Norwalk. He is the Chairman of The CT Black Church Task Force on Crime and Criminal Justice, which is an affiliation of the National Alliance of Faith and Justice (NAFJ) out of Washington, D.C.. He is also a member of the Norwalk Urban Youth Coalition and the President of Interdenominational of Ministers Fellowship (IMF). Rev. Ewell is the past President of Congress of Christian Education of the Connecticut State Missionary Baptist Convention, which is an affiliation of the National Baptist Convention, U.S.A., Inc.

He has been happily married for nineteen years to the former Dianne Howard. They are the proud parents of five children and four grandchildren. Rev. Ewell and his family currently reside in Danbury, CT.